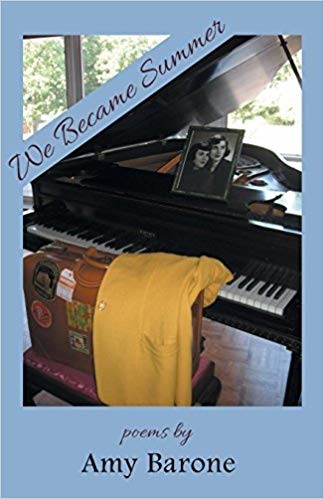 We Became Summer
by Amy Barone
NYQ Books
https://books.nyq.org/catalog.php
 2018 (ISBN: 978-1-63045-053-3)
(5" x 7", paperback, 92 pages, $15.95)
Review by Tsaurah Litzky
Memorable Encounters Start With A Tongue1
In Amy Barone's debut collection, We Became Summer, we meet a poet capable of great delicacy, as well as great restraint. She is also strong enough to say it like it is. This combination of delicacy and strength, a subtle but sure blend of content and intent, resonates through every poem.
We Became Summer is an easy book to read. The book divides into five sections, Heat, Light, Sounds, Home, Breeze. These sections combine to yield a stunning vision filled with introspection, transformation and revelation. The overall tone is consistently graceful as Barone always "displays a feathery touch"2. Her writing is so delicate that I imagine her wearing lace gloves and using a quill pen, but then again and again in the last lines of the poems she reveals the power, the strength of her grip. This trait she shares with Emily Dickinson, a writer she reads for pleasure and inspiration.
"Summer Haze," in the first section, Heat, is a good example. The first two stanzas paint portraits of her mother and father that convey the conflict inherent in the family dynamic. In the third stanza, the poet brings the poem home. 
Birthday parties in the breezeway.
Cousins galore gather 'round a bakery cake—
a huge swimming pool with sugary blue diving board.
She made every occasion special.
Yet again he returns home from work bellowing.
We never learned how to tame the air.
My mother blamed his crazy clan.
Hours later, he's happily whistling about.
            At thirteen, I get my first kiss in the backyard playhouse.
            A threesome with the Stauffer twins;
            my face assaulted by twirling tongues.
            None of it ever like it played out in the old movies.
In the next section, Light, she takes us across the Atlantic to Italy where she worked as a reporter and writer for trade magazines. "When in Italy" advises readers to:
"Uncover Italy's true masterpieces in Positano—
sea and sky and rock,
the big hole in the mountain
that resembles, well, anatomy
and then indulge in heaping
plates of spaghetti con vongole.
           pledge to stay forever and never go back.3
She, however, does return to America. In section three, Sounds, Barone's passion for music shines. She told me "music is a healer and provides a high I need. I started buying music magazines when I was seven, started going out to hear live music when I was fifteen." She takes us to Birdland where in "Master Plan":
Square white goatee and
long blue tunic swinging
"Pharoah" Sanders prances on stage,
wishing us peace and love.
He reverently clasps his horn
and serenades a packed house at Birdland.
No Twitter handles at play,
Tony Hewitt sings about
going steady, takes us all
back to a gentler time.
Musicians throng the space, eyes and
ears attuned to Sanders, who in his
seventy-fifth year, is ablaze.
Sometimes, as in "Romance Chelsea Style," the joyful music of these poems is tinged with sorrow as Barone describes an affair with a musician;
           He spoke to me in melody,
buried questions in verse. 
He turned me on to songwriters he idolized—
Robyn Hitchcock, Juliana Hatfield, Jane Siberry.
On my birthday he gave me a gift that will last forever,
a nameless song that called me the brightest star.
It took years to wean myself off him,
much longer than it took him to quit the needle.
In this poem, as she often does, Barone makes her private sorrow public in the most searing, direct way, a trait she shares with Charles Bukowski, another of her poet heroes.
Throughout We Became Summer, she continues to develop and astound. In section four, Home, she writes about Philadelphia, where she grew up, her mother, her father, the psychic forces that form her poems. Poems to her mother outnumber those to her father, fostering the conclusion her mother's influence was stronger. This strikes a responsive chord in me as this was also the case in my life. However, in a twist, at the end of "Travels with You," Barone thanks her father:       
Thank you for the gift of wonder, 
for raising me with the zest for discovery,
           for instilling me with the grit to journey alone. 
You taught us not to fear life;
           but to grab it, inhale it, run to adventures.
           Maybe you weren't the bad parent after all.
Among the admirable qualities these poems reveal is the way the author takes full responsibility for her choices and continues to forge her own way into the unknown.
In writing a review of a new book, whether it be a book of poems, a memoir, or a novel, I want to describe the book, what happens within it and why or why not it is worthy of the reader's time. Barone makes it easy for me to say — Own This Book!
In a book of choice work, "Orange Is My New Black," is my favorite poem.
I'm tossing black from my world—
black clothes, black cars, black moods.
Banishing dread and gloom.
Black was cool at sixteen and slimming at thirty.
Now I'm occupying orange-hued vibes,
loosening the shackles to dark tones.
I'm deporting colorless lingerie and sex.
When I sleep, instead of jumping into black puddles,
I'm going to emerge from tangerine dreams. Glowing.
Footnotes from We Became Summer
p.84. from "Glad"
p.46 from "Clifford Plays Somethin'"
p.35 from "When in Italy"
---
About the reviewer:
Tsaurah Litzky is a poet who also writes fiction, memoir, erotica, and commentary. Among her fifteen poetry collections are Baby On The Water (Long Shot Press), Cleaning the Duck (Bowery Books), Jerry in the Bardo, and Full Lotus–Yoga Poems (NightBallet Press). Her newest book, Flasher: A Memoir, was published by Unbearables/Autonomedia. Her awards include a nomination as one of the Twenty Poet Laureates of New York City by the Peoples Poetry Gathering and a Pushcart Prize nomination.