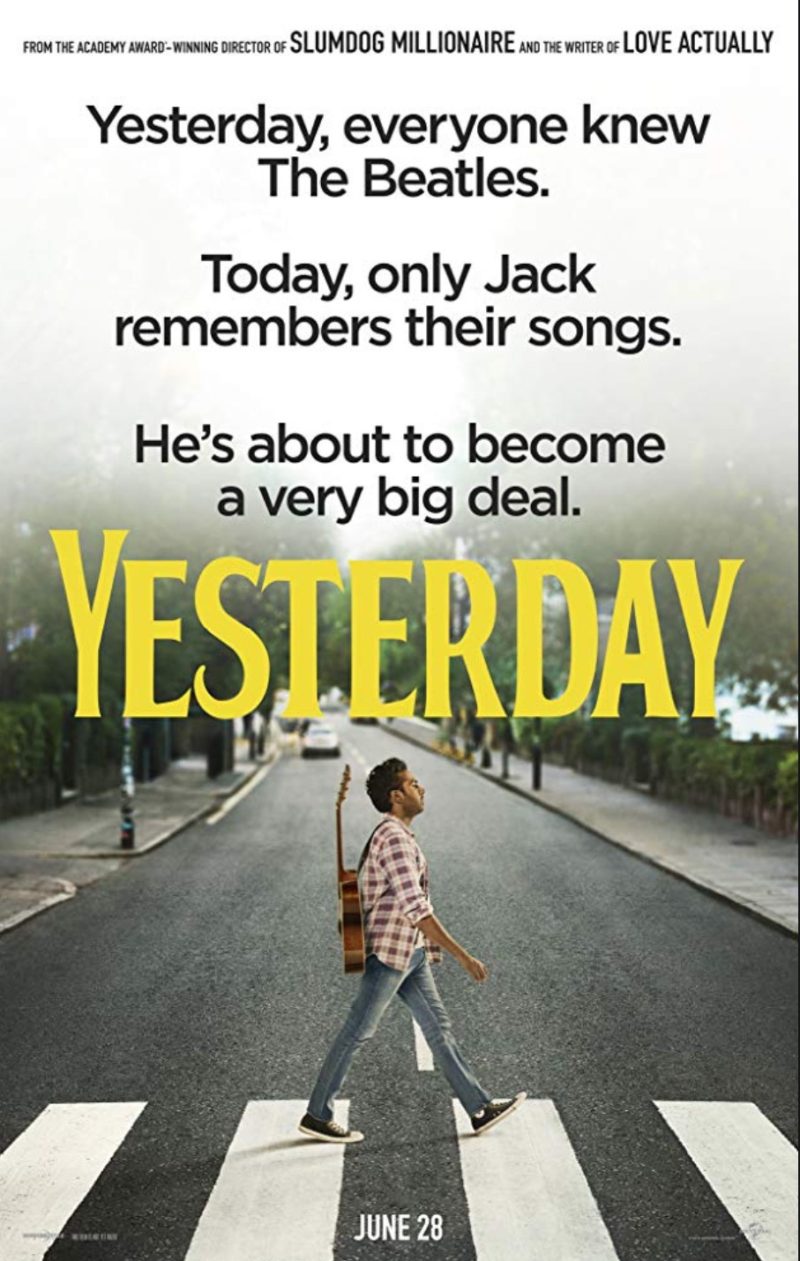 In Yesterday,
A Glimpse of Fame's Human Cost
by Margot Parmenter
Contributing Writer
American novelist William Faulkner once told the Paris Review that "the artist is of no importance — only what he creates is important, since there is nothing new to be said."  Yesterday, the new film from writer Richard Curtis (Notting Hill; Love Actually) and director Danny Boyle (Trainspotting; Slumdog Millionaire) tests his premise, serving up a conventional fable of artistic creation masquerading as an examination of the relationship between aesthetic quality and authenticity.
Former schoolteacher Jack Malik (Himesh Patel) has spent his twenties living in his childhood bedroom, working a thankless day job and circulating around the Suffolk pub scene trying to make his singer-songwriter dreams into reality.  But despite having supportive parents and a manager-slash-roadie who is clearly crazy about him (Ellie, played by Lily James), he's been beaten down by his lack of success.  After an initially promising but ultimately humiliating festival gig, he decides to throw in the towel.  But fate, as it so often does, has other plans: as Jack is pedaling home, a global power outage hits the world and a city bus hits Jack.  When he wakes up, it's into an alternate universe in which no one but him seems to remember The Beatles.  (There are a few other differences, played for humor and best discovered live.) 
What ensues amounts to a test of Faulkner's theory: if great art is transmitted by the muse and carried down the mountain by mortal vessels, can fame be other than a consolation prize for what is ultimately a self-sacrificial enterprise? 
Once Jack accepts the absurdity of his new circumstances, his journey is a conventional artistic creation narrative, albeit one with an assured outcome — if Jack can remember and recreate the music, the world will receive it.  Though the work is already an artifact (decidedly not Jack's own), the process of midwifery remains largely the same.  At first, no one understands: Jack's parents fail to discern the genius in "Let It Be," his friends insist that "Yesterday" is "no Coldplay," and the Suffolk pub crowd is as unimpressed by The Beatles' songs as they were by Jack's originals.  But this time Jack is different: he knows the music is great, and, armed with the kind of certainty that he couldn't summon for his own material, continues to pound pavement, eventually attracting the attention of Ed Sheeran (played by himself) and Sheeran's agent (Kate McKinnon, who baldly offers Jack "the poisoned chalice of money and fame"). 
Though the muse delivers, and the public begins enthusiastically receiving the music, Jack's own troubles as the messenger only seem to mount as his star rises.  Sheeran keeps nagging him about his creative process and offering unsolicited writing advice (he suggests changing "Hey Jude" to "Hey Dude").  Jack's relocation to L.A. means leaving behind Ellie, who confesses her love at his going-away party.  Worst of all, he's hounded by two other non-amnesiacs, whom he fears will expose him as a fraud (as it turns out, they're only grateful that fate spared a musician, and The Beatles' music isn't lost to the world forever).  But these difficulties are ultimately dwarfed by the bigger problem, one faced by any artist whose work finds a sizable audience — artistic genius is isolating, and fame is mostly façade. 
As the movie comes to a climax, Jack finds himself reevaluating all that he thought he wanted. Should he enjoy the spoils of fame or return to the pursuit of that even more elusive thing — the happy life?  He makes his decision with some well-timed advice from the uncredited cameo actor at the heart of the film, whose momentary appearance highlights the shadow lives so often sacrificed by great artists.  And we're left to ask ourselves how we've gotten it so twisted.  Fame was always the lonely after-image that the muse left behind on the man; so why have we become so bent on pursuing it for its own sake?
---
About the reviewer:
Margot Permenter  is completing an MFA at the Savannah College of Art and Design. She works primarily in nonfiction.