Fred Roberts photos
Illusoir
---
***
Local Heroes Ride Again
by Fred Roberts
Music Editor/Europe
Local Heroes, a 26-year-old institution in Germany, is a dream for anyone with a voracious appetite for music. The events begin around Spring in the various states of Germany, collecting the best newcomer bands in a series of semi-final and final events to send them on to an annual grand finale in Salzwedel. This year it was a nearly eight-hour immersion in music. At 6 p.m. on Saturday, November 11th, the music began, and ended in the early hours of Sunday. Thirteen bands, playing 20-minute sets, with a 10-minute pause dedicated to setting up the next band, while elsewhere, in a studio set, the previous band introduced itself, decorated a large pizza, then played an acoustic session. The pizzas were subsequently sent to the backstage area for band members, press and LH personnel, if anyone could find a few minutes' time for nourishment. Following the sets by the 13 competing bands, a final one hour set, was played by the Berlin hip hoppers Ohrbooten, to fill the time needed to vote and determine the winner. Audience and a group of judges each selected their favorites, with the result announced sometime after 2 a.m.
Prelude, Hamburg September 2017
Local Heroes began for me in Hamburg as judge during the city-state's final event in September, itself an ambitious showcase of ten bands from around the Northern German port-metropolis. It was a loud night with predominantly heavy metal and hard core bands. The Baconanas, a pleasant venture into 60s garage, were a clear favorite of the audience, a close favorite of the judges, and consequently won their ticket to Salzwedel.
Other highlights that evening included Catalyst with melodic death metal, and the only lady member of a band represented at the event. Her powerful, charismatic vocals mesmerized the audience. One of the lady judges was so excited, she met the band afterwards to sign them to her label. Another band, InFlator had an extremely tight set of metal-rap, and was close second in the judging. There were however misogynistic overtones, imagery easily construed as sexist (a male hand covering a lady's mouth) as well as negatively suggestive lyrics in one of their songs "What She Really Wants" from an album titled "The Conditioning". They would be advised to consider their messaging, as it is in stark contrast with the times. Spinal Tap's "Smell the Glove" is the first thing the band made me think of.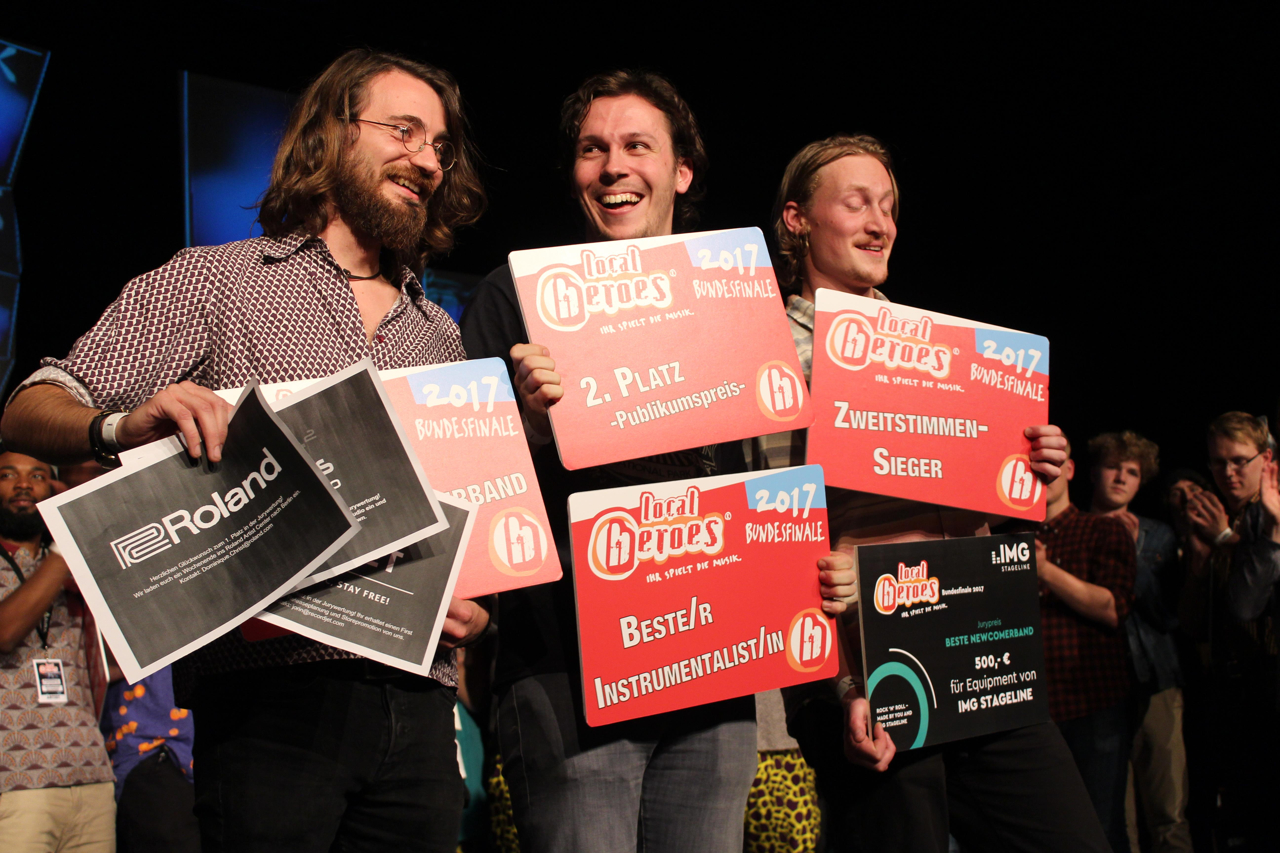 Elephant's Foot, enough prizes to fill a suitcase
Local Heroes Salzwedel, November 2017
The grand slam winner in November was the band Elephant's Foot, taking away the prizes of Best Jury band, best instrumentalist (drummer) who delivered intricate beats at a frantic pace. The band were undoubtedly great, playing a "between a rock and a hard place" brand of 70s music, reminding alternately of Led Zeppelin and Deep purple. At the event conclusion they were decorated with accolade after accolade that one almost expected someone to appear handing the lead singer with his round glasses and long hair a John Lennon lookalike award. The prizes were well-deserved, but as the jury spokesman announced, their first place choice was a difficult and heatedly discussed decision. With such a high quality and caliber of bands that were represented that night, it would be difficult for anyone to select just one.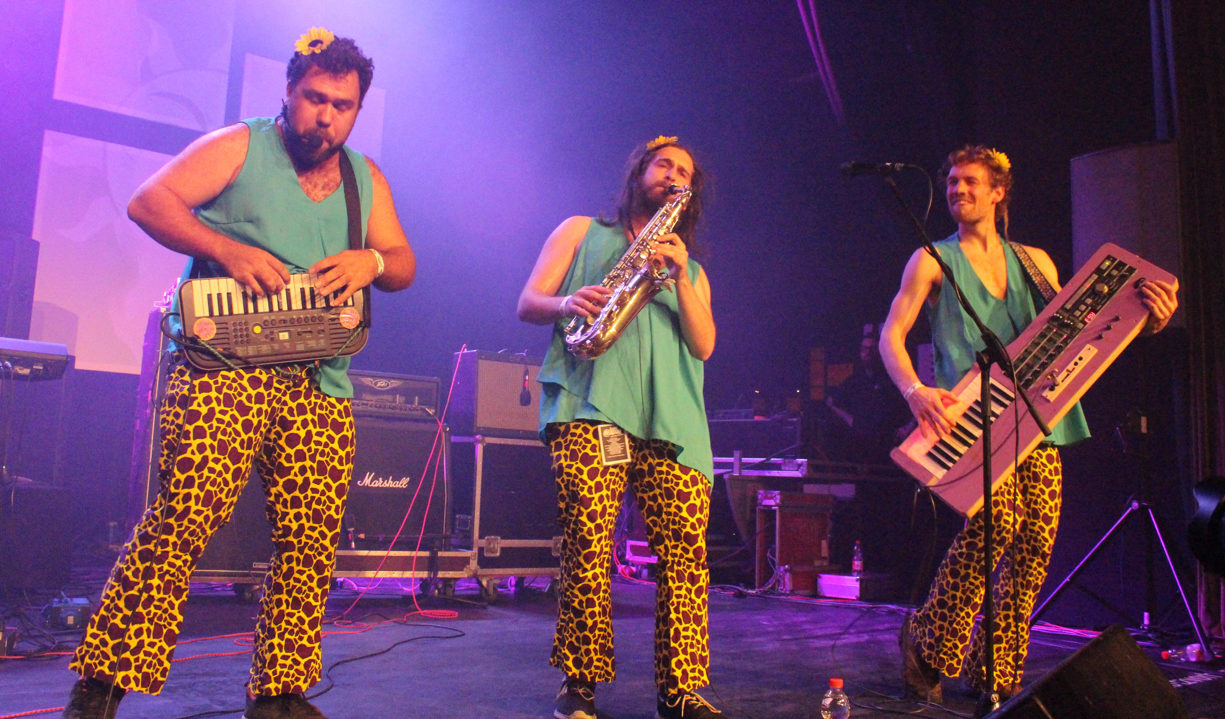 "Flower power" pop from Berlin, The Suns of Shine
Stand Out Moments
How do you describe an evening filled by 13 worthy bands, a maelstrom of non-stop impressions and captivating sounds across a wide range of genres? It is an impossible task. Some events have to be experienced, and this is one of them. In the course of the evening, several moments stood out. There were the Suns of Shine from Berlin, a six-headed combo dressed as sunflowers that would fit in as the opening band for Abba. The music was upbeat and did justice to their band name. The front man of Do I Smell Cupcakes was all over the stage with a provocative homoerotic dance performed while belting out his just as expressive vocals. The songs had a positive message of not conforming to other people's idea of what you should be, but rather to be yourself. Two youngsters out of Saxon in bowtie and suspenders, Mathews & Miller performed a folk style with endearing songs in English and German. One lady made it to the finales, the singer of Wendy I'm Home (Mannheim). Mary-Anne Bröllochs is a power-lady turning every song into a wild rock and roll ride.
---
The Baconanas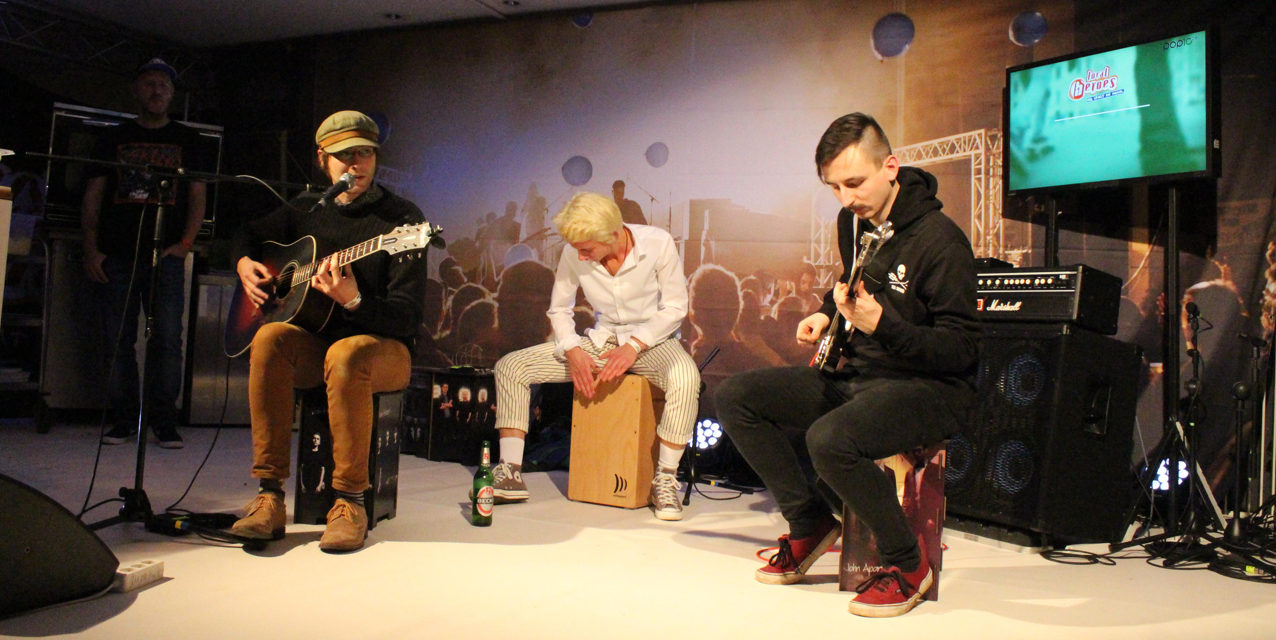 Interview session with The Baconanas, introducing a song from their upcoming album
My favorite to win at Local Heroes were the representatives of Hamburg, The Baconanas. They consider themselves a garage rock band. A drums-bass-guitar trio, in one of their videos they look like they might have walked out of a Captain Beefheart album cover. One hears in their music love to a wide range of classic genres from surf to country to rock to blues – all in one novel sounding synthesis. It's not unusual to hear an occasional reference to Johnny Cash or Jimi Hendrix in one of their songs. Lead guitarist and front man "Blind Lemon" Paul plays with such ease and a sense of humor, that the audience is immediately drawn in. Their connection with the audience both in Hamburg and in Salzwedel spoke for itself, though at the finals they had the misfortune to draw the first slot of the evening, before the crowd had assembled in full force. They concluded their set with a lovely instrumental titled "From Saigon with Love," which they've also pressed as a 7" single. A 33 ⅓ LP is due to arrive in January.
---
Luke Noa and the Basement Beats
*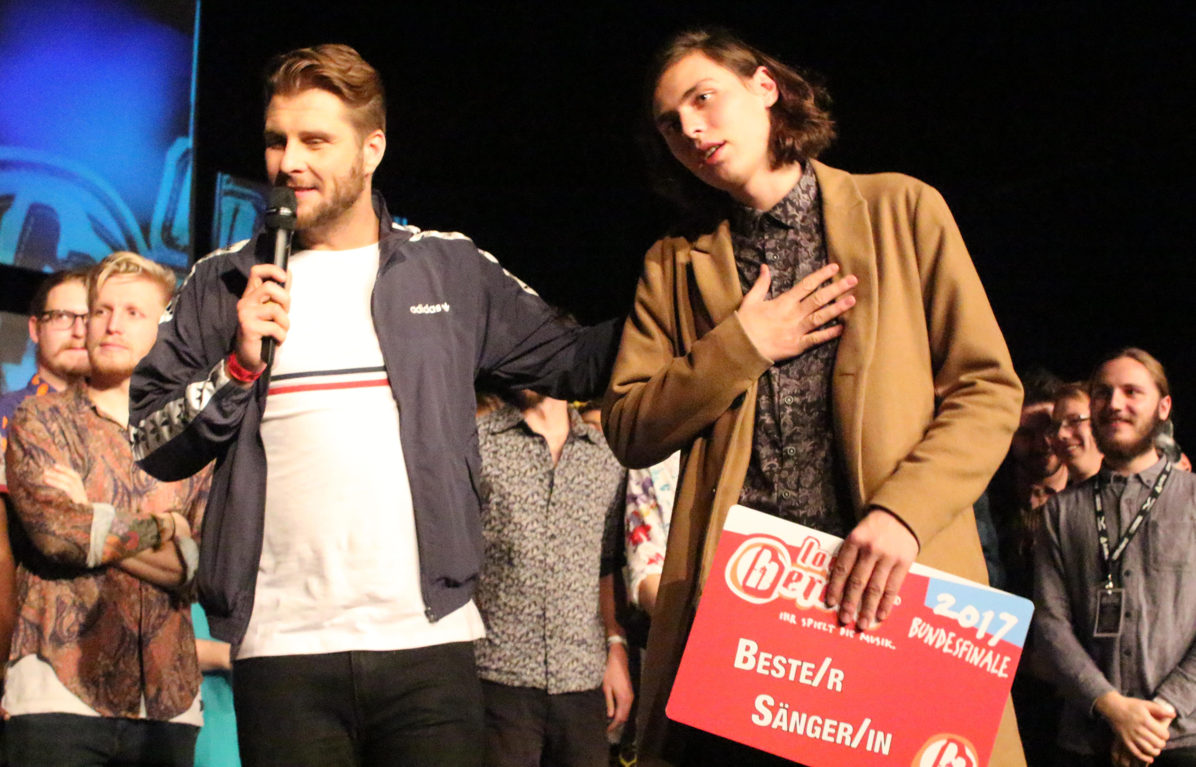 A well-deserved best singer award went to Luca Göpper of Luke Noa & the Basement Beats
Luke Noa and the Basement Beats, besides having a cool band name, embraced a style hovering between West Coast and Southern rock, their pleasing vocals bringing back the days of the Paisley underground. Lead singer/guitarist Luke scored a best vocalist award from the jury. On stage the band of five showed a fantastic cohesion, with the bass player clowning occasionally, adding his share of showmanship to the overall performance. The judges awarded second place to the band, which prize includes an album release. 2018 looks to be a good year for new music.
---
Fréros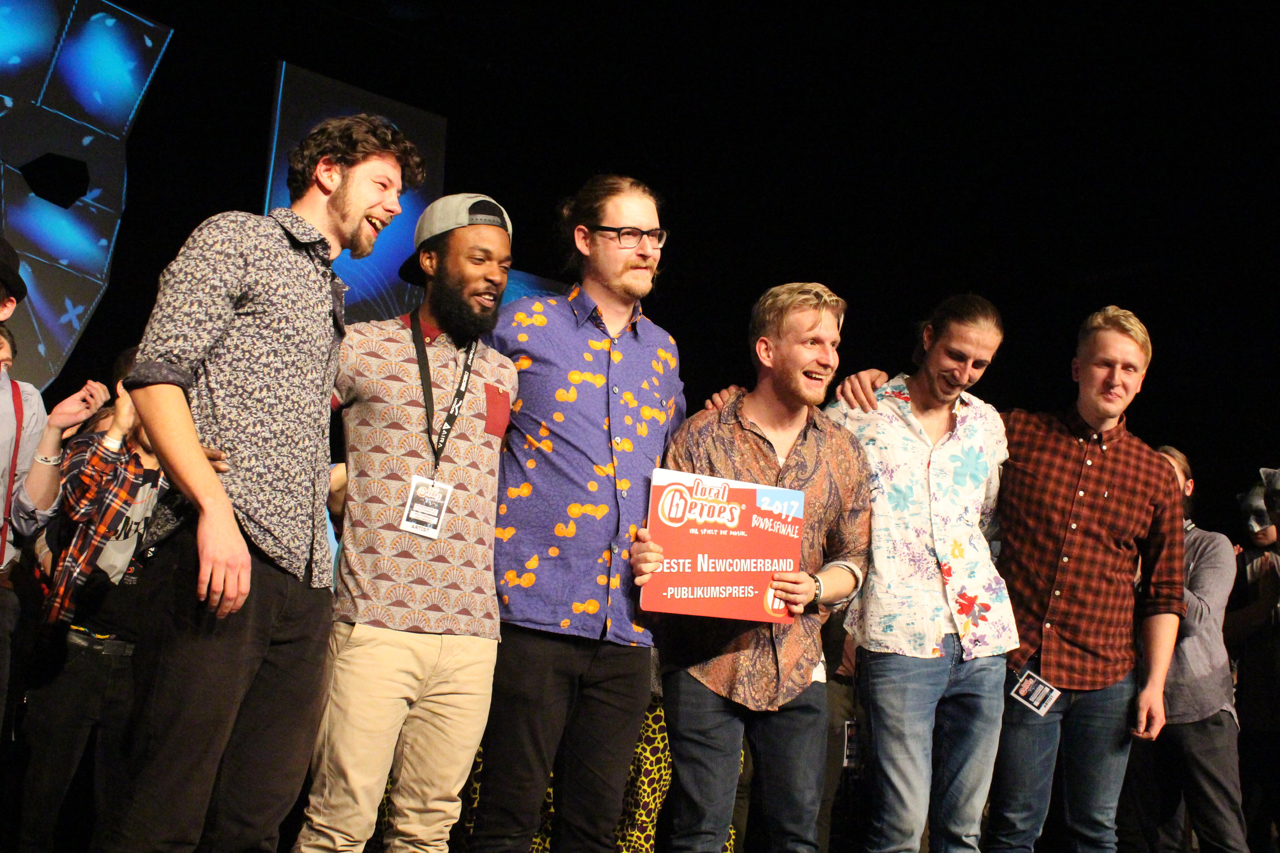 Fréros, a band to watch in 2018
The six man band Fréros out of Oldenburg took the best newcomer prize in the public voting. Their performance as the final competing act of the evening was an electrifying reggae-ska-blues-funk explosion whose greatness left me dumbfounded. The soulful vocals and delicious saxophone licks in the kaleidoscopic swirl of seemed too impossible to be true. Lead vocalist Blondel must have spent his childhood listening to Bob Marley and James Brown records. That's the only way I can explain it. Something was happening here, and gives quite a promise for their upcoming album. A digital EP is already available in bandcamp.
---
Conclusions
Over and above the bands I saw at Local Heroes, another aspect that stands out is the meticulous, well-oiled organization that you can set your watch by. After a set ended, it took the crew and the next band 10 minutes to set up. Invariably the crowd drifted out of the concert hall to watch the interview and acoustic performance that filled the gap between acts. I shall return to Local Heroes next year, and in the meanwhile, have added 13 bands to my list to follow over the next months.
The Bands
Luke Noa & The Basement Beats (Baden-Württemberg)
The Suns of Shine (Berlin)
DO I SMELL CUPCAKES (Brandenburg)
Pad und die Waschbärbande (Bremen)
The Baconanas (Hamburg)
Anchester (Hessen)
Terrifying High Clouds (Mecklenburg-Vorpommern)
Fréros (Niedersachsen)
Haggefugg (Nordrhein-Westfalen)
Wendy I'm Home (Rheinland-Pfalz)
Mathews & Miller (Sachsen)
Elephant's Foot (Sachsen-Anhalt)
Screaming Stereo (Schleswig-Holstein)
---
About the reviewer:

Fred Roberts is a native of Cincinnati living in Germany since 1987 who enjoys subverting the arbitrary commercial process in which great works often go unrecognized. He has a dual B.S. in Computer Science and Psychology from Northern Kentucky University (1984) and a Masters in Psychology from Bielefeld Universität (1999). He contributed short stories to the early ezine "D A D A RIVISTA CULTURALE E/O TELEMATICA" (1995/96), and later to the short-lived Greenbeard Magazine, in 1997 receiving a Google Blog of Note citation for his Weblog indeterminacy.blogspot.com where he wrote 428 "one-minute short stories" inspired by found photos. Fred is also creator and designer of Elbot.com, an award-winning AI system. His interests include literature, film, photography and discovering all the well-kept sounds Europe has to offer.
CHECK OUT FRED's TOP TEN FOR FEBRUARY