Camino al Desván is the musical project of the couple Lole García and Jordi Cabayol.
---
***
Finding a Musical Heaven
Rediscovering Lost Sounds of Catalan Underground Music
by Fred Roberts
Music Editor
The past years have seen a number of compilations focusing on "secret" Barcelona, the underground culture of the Catalonian capital during the seventies and eighties, a time rich with innovation and revolutionary musical ideas. It is a scene similar to the primal ooze out of which the Neue Deutsche Welle was born. Many of the Barcelona bands remain to this day as tips for insiders. Munster Records began the journey of re-discovery in 2013 with a 240 page book titled La Ciudad Secreta. Sonidos Experimentales in la Barcelona Pre-Olimpica 1971-1991. This comprehensive work was accompanied by a three LP/CD set of band recordings, some not heard for decades or never before issued. Another Barcelona label, Domestica Records has specialized in "releasing lost pieces of underground music." Their compilation Abstracte (Barcelona Avantgarde & Industrial 1981-1986) is already a classic, brimming with sounds that still fascinate today. In February, the label La Olla Express issued material curated from various Barcelona sound archives documenting the avant-garde music of 1980s Barcelona. That edition Sense Prefix sold out immediately, but is available as a free download in Bandcamp.
La Olla Express has done a deeper service to the Barcelona music scene with editions of Catalonia bands like Koniec, Moisés Moisés and Perucho's.  Now the label brings us a monumental addition to their catalog in the complete works of the underground electronic combo Camino al Desván, meaning "road to the attic" in English.The band was active 1983-1986 as part of Barcelona's rich musical underground. As the album description states, they arose from the industrial electronic scene of that moment, yet violated its basic tenets. After several listenings to the nearly two and half hours of music, my opinion is that their work defies categorization, at the same time intriguing and captivating the listener as he/she tries to do so.
Camino al Desván is the musical project of the couple Lole García and Jordi Cabayol who met while playing in different bands during the early '80s. They began Camino al Desván as a duo in 1983, but were joined later in 1985 by pianist Carlos Luis. Their collective musical legacy is represented by three releases on various cassette tape labels. Though highly respected in Barcelona's avant-garde musical circles their music went pretty much unnoticed by the popular press.
---
Camino al Desván
---
When listening to such a comprehensive body of musical compositions one is tempted to create order by classification. Some of the tracks are instrumental, conveying a gentler feeling than the harsher and literally metal sound of Einstürzenden Neubauten. Camino el Desvan tend to counterbalance electronic "noise" sequences with melodic parts, drawing the listener into a new reality, such as on Sueño de profesión or Lo que el viento selló. The dark feeling is never too dark, and the sense of foreboding is softened by the rhythmic dance of sound, such as on the piece 7".
Another set of tracks delve into atmospheric realms that industrial by itself would not be capable of reaching. Imagine if the Residents had composed the soundtrack to Koyaanisqatsi, with guest appearances by John Cale on electric violin. That is the sense on pieces like El pie, La curación, Adjudicado a la danza, or La danza en invierno. I wanted to listen to them again and again to figure out their secret.
Some of the compositions contain vocals by Lole, like a voice lost in a subterranean chamber, filtering through to a higher level. She sounds like a feminine synthesis of Lou Reed and Nico,  singing in Spanish intoned as if it were ancient Latin, incantations juxtaposed with poetic noise. La línea de sombra and La misma mezcla se encuentra en casa are prime examples of that feeling. There are also tracks like 16 grageas and Cien pies para Pitum that sound hypermodern, as in the realm of Felix Kubin. Fock intimida a Gordi radiates an intense aura of science fiction. And all that is just the first disc!
On the second disc the tracks share a more unified approach, as the musicians appear to have finalized their aesthetic statement. Lole asserts a stronger vocal presence as harmonic and melodic parts dominate the compositions. Together these works represent a journey of fascination and discovery. There is immense beauty in synthesizer pieces like La contorsión de Pollo and the interlude La escarcha, represented in two variations. El mensaje sounds like Erik Satie manifesting himself out of a seance to play the piano. Anorexia, a synthesizer and piano melody appears to unite sadness and contentment in one expression. The final track of the second disc El gran ojo is unlike anything that preceded it, a slow monastic chant and dance by the authors of this unique musical vision. Perhaps it shows the direction they might have taken, had they continued. In any case, the music they left us reimagines the boundaries between avant garde, industrial and experimental music.
---
Where it's all stored: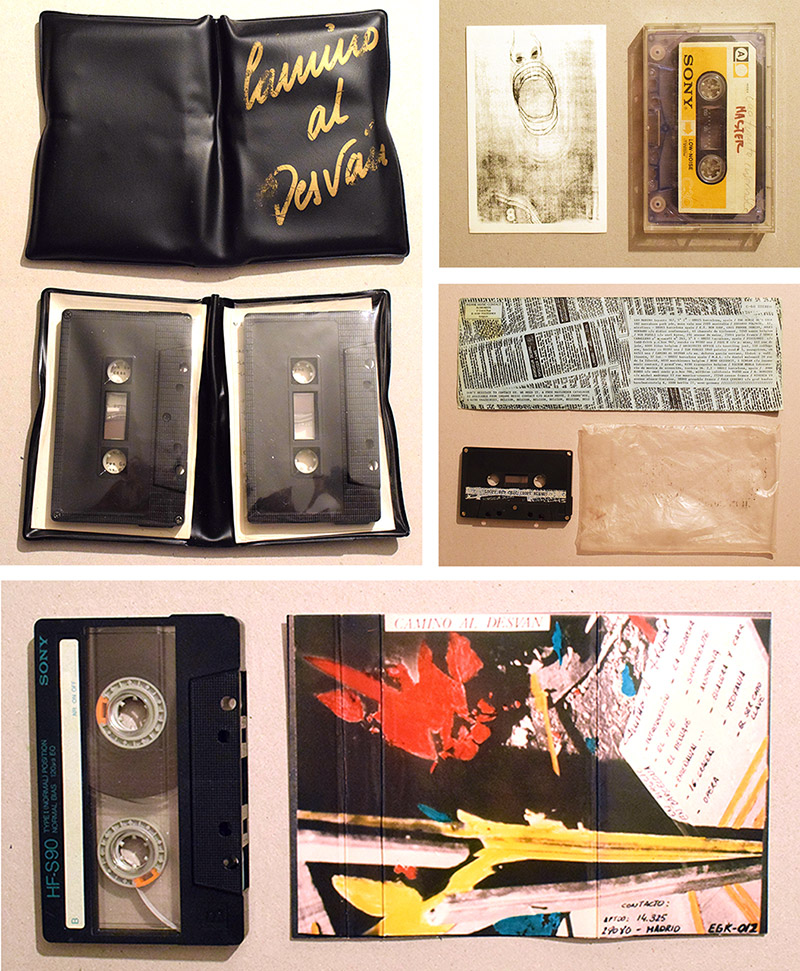 Rare, original issues of Camino al Desván
---
Album: laollaexpressrecords.bandcamp.com/album/camino-al-desv-n-2cd-libreto-cat-cas-en
La Olla Express: laollaexpress.com
---
About the author:

Fred Roberts is a native of Cincinnati living in Germany since 1987 who enjoys subverting the arbitrary commercial process in which great works often go unrecognized. He has a dual B.S. in Computer Science and Psychology from Northern Kentucky University (1984) and a Masters in Psychology from Bielefeld Universität (1999). He contributed short stories to the early ezine "D A D A RIVISTA CULTURALE E/O TELEMATICA" (1995/96), and later to the short-lived Greenbeard Magazine, in 1997 receiving a Google Blog of Note citation for his Weblog indeterminacy.blogspot.com where he wrote 428 "one-minute short stories" inspired by found photos. Fred is also creator and designer of Elbot.com, an award-winning AI system. His interests include literature, film, photography and discovering all the well-kept secrets Europe has to offer.
Barcelona Playlists: